Collaboration Agreement signed between leading Malaysian pharmaceutical company and US-based foodtech company
Kuala Lumpur, July 14, 2022 – Duopharma Biotech Berhad ("Duopharma Biotech" or "the Company") and US-based foodtech company The Live Green Co. signed a Collaboration Agreement today to explore the use of plant ingredients and technology to replace animal, synthetic and ultra-processed ingredients, to meet consumer demand for more sustainable wellness foods and pharmaceuticals.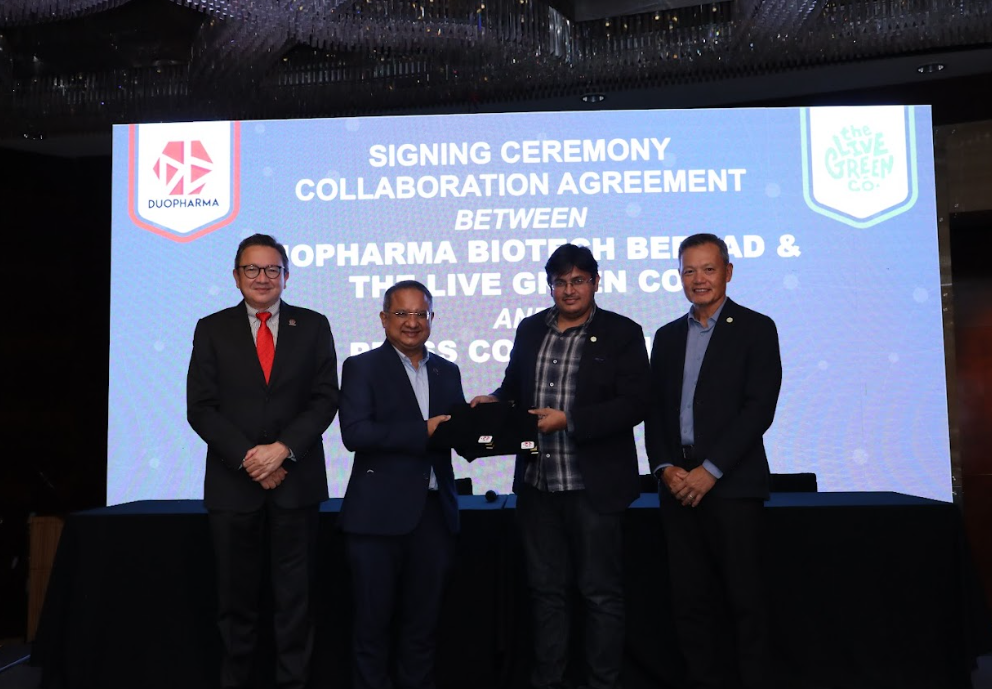 The collaboration will involve:
Development, manufacturing and commercialisation of plant-only wellness foods and plant-based pharmaceuticals and for Duopharma Biotech's Consumer Healthcare range 
Development of plant-based pharmaceutical products by substituting ingredients that are animal-based or synthetic
Specialty product development through R&D collaboration to create a new range of plant-only functional foods catering for the unmet need of patients with special dietary requirements 
Manufacturing optimisation as part of Duopharma Biotech's Environmental, Social and Governance (ESG) initiative 
"In line with our vision of "Providing Smarter Solutions for a Healthier Life" and our mission of being the "Leading Healthcare Group Providing Quality and Innovative Solutions", we are always on the lookout for new innovations that promote better health and likeminded companies that we can collaborate with to enhance our portfolio of wellness-focused products. Through this collaboration with The Live Green Co., Duopharma Biotech is able to expand the number of plant-only wellness foods and plant-based pharmaceuticals that we can offer to consumers, thus expanding our market potential, while simultaneously reducing our carbon footprint from non-sustainable ingredients and under-optimised manufacturing processes," said Leonard Ariff Abdul Shatar, Group Managing Director, Duopharma Biotech Berhad.
Leonard Ariff explained that the decision to replace existing ingredients with plant alternatives is an important step in realising Duopharma Biotech's Climate Performance goal of reducing greenhouse gases throughout its supply chain. The Company has announced its ESG commitment to achieve carbon neutrality by 2030, net zero carbon emissions by 2050 and to replace 50% of single use plastics with biodegradable plastics within its operations by 2026, with an emphasis on new technology and digitalisation to reduce emissions more efficiently.
"Consumers are now more conscious and educated about sustainable consumption. Plant nutrition is a healthy alternative to wellness products with animal-derived or synthetic ingredients. There is a growing movement towards making healthier food and supplement decisions, and we aim to be among the companies meeting this demand in Malaysia and in our wider global market," he added.
"We are extremely delighted to enter into this collaboration with Duopharma Biotech. It is visionary of Duopharma Biotech to be the first pharmaceutical company to play such a futuristic and proactive role in consumer health and sustainability. We would like to congratulate and thank the whole team," said Nagarajan Pillay, Chairman, The Live Green Co.
Priyanka Srinivas, Founder and CEO, The Live Green Co commented, "We are on a mission to evolve the way the world consumes food including pharmaceuticals and Duopharma Biotech's commitment towards a more sustainable future has convinced us that they are the right partner to become a large-scale change agent in our race towards mitigating climate change. Using CharakaTM, our proprietary Artificial Intelligence machine learning platform, we can ensure R&D efficiency and speed to market for Duopharma Biotech's development of new healthcare and wellness products."
"This collaboration demonstrates the vision of two companies that believe in being large-scale change-makers in the space of nutrition and functional foods," she elaborated.
Duopharma Biotech's collaboration with The Live Green Co will see at least two reformulated products offered to consumers by 2024. Leading consumer brands that will soon carry plant-only or plant-based tags includes Flavettes, Champs, Proviton, Uphamol and Naturalle, among others.